Entrepreneur; What Are You Waiting For?™
Welcome to Newman, DeCoster ...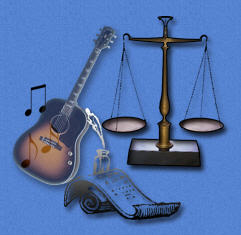 We have been providing professional legal, tax, accounting, and business consulting services for over 20 years.
Several of our clients have won major business awards, others have been nominated for Grammy Awards, and several others have won Premier Player Awards.
Bruce S. Newman was born in Brooklyn, New York. He attended Pace University in Manhattan where he received his undergraduate degree in accounting and was one of the youngest members of the accounting profession ever to pass all four parts of the CPA exam at the same time. He interned for Touche Ross & Company, one of the "Big Eight" accounting firms, and worked for Peat Marwick Mitchell & Co., another "Big Eight." He received a Masters in Taxation and a Law degree from Pace University, both while practicing as a CPA. During law school, Mr. Newman studied entertainment law under his mentor, Martin E. Silfen, a highly respected entertainment lawyer, who represented Aerosmith, Blondie, and other monsters of music. In 1985, he and his partner, Peter J. DeCoster, an international tax expert from Great Britain, started Newman, DeCoster. In 1989, Mr. Newman opened the midtown Memphis office of Newman, DeCoster, and has capitalized on the re-birth of the arts and entertainment business in Memphis.
We have been affiliated as board members or have had memberships in many of the arts and entertainment organizations that support these industries, such as:
The Recording Academy (NARAS)
WEVL FM 90 Volunteer Radio
Memphis Arts Council Grant Committee
Arts In The Park
North American Folk Music and Dance Alliance
Theatre Memphis
Center for Southern Folklore
Indie Memphis
Over the years, we have represented nearly every kind of commercial client and business imaginable. Many of our clients are in the arts and entertainment industry. We have represented journalists, actors, comedians, media, publications, authors, magazines, publishers, models, artists, writers, record companies, producers and performers, music festivals, and non-profit organizations.
Bruce Newman is especially proud of his lifelong hobby as a songwriter. He recently wrote "Burning Man", a tune about his experiences attending the Burning Man Festival. This recording features the work of Kevin Houston, Eric Lewis, Paul Taylor, and Susan Marshall.
In addition, he wrote "New Orleans Refugee", a song about Hurricane Katrina.
Here is a sampling of entertainment clients we are proud to have touched:
Nancy Apple (recording artist)
Ardent Studios
Southern Avenue
Jack Ashford And The Motown Funk Brothers (legendary Motown musicians)
John Backe (publisher)
Bobby Blue Bland (late musician)
Bar-Kays (legendary Stax group)
Betty Berger (music entrepreneur)
Scott Bomar (musician, Hustle & Flow)
Craig Brewer
Don Bryant
Cedric Burnside (blues performer)
Downtown Productions; Jodie Vance (The Downtowner)
Jon Hornyak (Recording Academy)
Joyce Cobb (singer)
Bill Ellis (writer, musician)
Sally Fingerett (musician)
Ron Franklin (musician)
Judy Freudberg (writer-Sesame Street)
Art Gilliam (business owner)
Alvin Youngblood Hart (musician)
Teenie Hodges (musician)
Posey Hedges & Memphis Sound (recording studio)
Mable John - Director of Ray Charles' Raelettes; Stax artist
The Estate of Al Jackson, Jr. (late legendary Booker T & the MG's drummer)
Kitty Jerry (performer)
Bo-Keys
Amy LaVere
Christine Lavin (musician)
Eric Lewis (award winning musician)
Lomax Archives (non-profit)
Three-Six Mafia (award winning performers)
Susan Marshall
Boo Mitchell (legendary producer)
Deanie Parker (Stax and community leader)
Tom Paxton (folk music legend)
Ann Peeples (performer)
Charles "Skip" Pitts (legendary guitarist for Isaac Hayes)
Jeff Powell (award winning producer)
Howard Q. Smith (hip-hop impressario)
Jim Spake (award winning musician)
Paul Taylor
Marvell Thomas (late musician)
Rufus Thomas (late legendary Stax performer)
Dave Van Ronk (late legendary folk musician)
Victor Wainwright
Charlie Wood (award winning musician)


Home | About Us & Our Clients | Calendar & Special Events | Best Picks & Best Links
Useful Forms & Important Issues | Contact Us